Orchid Lane
Regular price
Sale price
$34.00 USD
Unit price
per
Sale
Sold out
Ignite your senses with 'Forest Zen,' as the room fills with the exhilarating scent of fir needle and pine, transporting you to the heart of towering evergreen trees. Subtle notes of sweet raspberry and earthy woodsmoke dance in perfect harmony, striking a delicate balance between refreshment and comfort. Finally, the warm, woody embrace of cedar envelops you, evoking the feeling of being nestled among ancient trees. This extraordinary candle not only transforms your space but offers a captivating escape, immersing you in the serene magic of the forest. With 'Forest Zen,' invite the tranquility of nature into your daily life, creating a harmonious atmosphere that indulges and soothes the soul.
Top Notes: Fir Needle, Pine
Mid Notes: Woodsmoke, Raspberry
Base Notes: Cedar, Golden Amber
Product Details

10 oz hand poured Coconut & Apricot Wax Candle
55 hours average burn time
Formulations that are vegan, cruelty-free, phthalate-free, and paraben-free.
Take advantage of a glossy black vessel that is both reusable and suitable for repurposing!
Share
View full details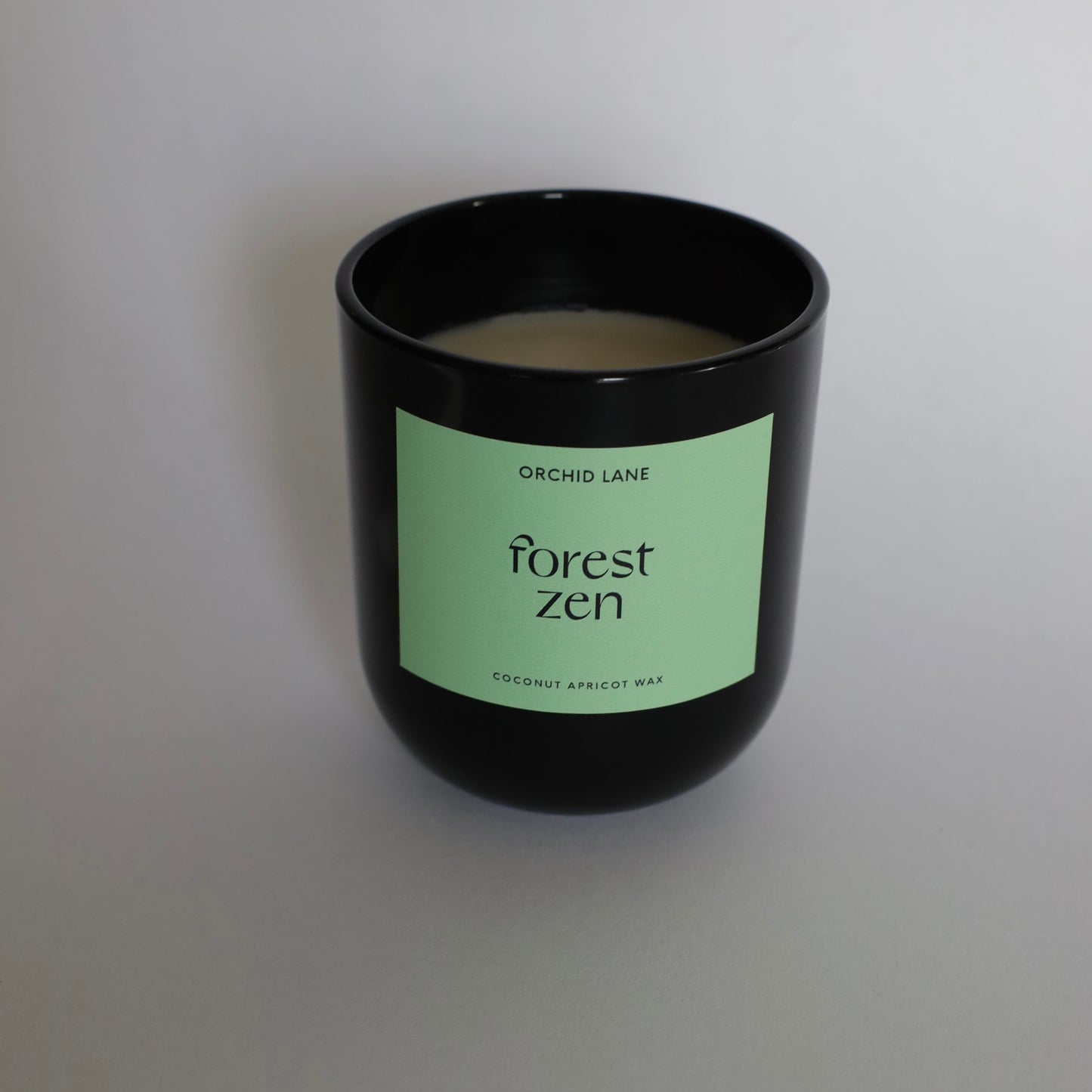 The perfect Luxurious, Woodsy Scent!
I bought this candle at the Women's Market and when I smelled it I knew I had to buy it--only now I wish I got a few more to give to family! I was in love with all the scents, and it was a tie between Mystical Oud and Forest Zen.. I wish I bought both but Forest Zen was up my alley and kind of reminded of a mysterious, Christmas like scent that isn't overpowering and very sophisticated. It smells like pine trees and fresh cut grass with a bit of vanilla and it's probably my favourite candle I have at home.
I'm glad I walked by the Orchid Lane Booth. Thank you for creating something so magical and clean!